The eastern side of the Terrace Room, Terrace Room Two is available Monday to Friday, 8am to 5pm.
Entry is direct from the Gordon Darling Hall and on the north side, the room opens onto an outdoor-heated terrace with lovely views of gardens and the lake. Slightly smaller than Terrace Room One, this space is ideal for a breakfast or lunch, workshop or planning day.
Rates
Full weekday (8am–5pm)
$800
Weekday (6–10am / 8am–12pm / 11am–3pm / 1–5pm)
$550
Weekend (10am–5pm)
$800
Seating capacities, 138m2
Cocktail
up to 100
Theatre
up to 100
Round tables
up to 60
Cabaret
up to 48
Long tables
up to 40
U-shaped
up to 25
It's possible that there's been a change in government restrictions and you're seeing the following seating capacity figures or venue guide PDF before we've had the chance to update them. To ensure we can meet your needs please get in touch by completing the enquiry form or contacting The Fresh Collective at eventsnpg@thefreshcollective.com.au
Seating configurations
Theatre style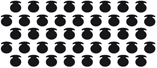 Theatre style seating is considered the best way to maximise space, but does not lend itself to note taking or group interaction. It is ideal for events that feature staged entertainment or speakers.
Round/long

Seating style almost always used at functions that include food. Also for boardroom style seating for groups that gather around one large table.
Cabaret

Similar to banquet seating, but the chairs are placed around one-half of the table. The chairs all face the front of the room. Suitable for conference and seminar events.
U-shaped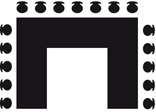 This style of seating consists of tables in a u-shape. Attendees are seated around the shape facing each other, but there is a space between the tables that can be used for presentations.