The Gordon Darling Hall is the main entrance foyer of the Gallery and it never fails to impress, with its soaring ceiling and natural light. This space is available from 6.30pm and is ideal for your cocktail or dinner receptions and just perfect for your wedding reception. When hiring this space the Front Forecourt to is supplied free of charge for your pre-dinner drinks and canapés service. The Gordon Darling Hall also leads into the exhibition and permanent galleries and we encourage you to begin your evening with an exclusive viewing of gallery's collection before beginning the formalities of your evening.
Rates
Monday to Thursday evening (6.30–11.30pm)
$1700
Friday to Saturday evening (6.30–11.30pm)
$2000
Seating capacities, 652m2
Cocktail
up to 500
Theatre
up to 300
Long tables
up to 250
Round tables
up to 200
It's possible that there's been a change in government restrictions and you're seeing the following seating capacity figures or venue guide PDF before we've had the chance to update them. To ensure we can meet your needs please get in touch by completing the enquiry form or contacting The Fresh Collective at eventsnpg@thefreshcollective.com.au
Seating configurations
Theatre style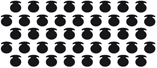 Theatre style seating is considered the best way to maximise space, but does not lend itself to note taking or group interaction. It is ideal for events that feature staged entertainment or speakers.
Round/long

Seating style almost always used at functions that include food. Also for boardroom style seating for groups that gather around one large table.