Clive Hood (1908—1991)
by Percy Leason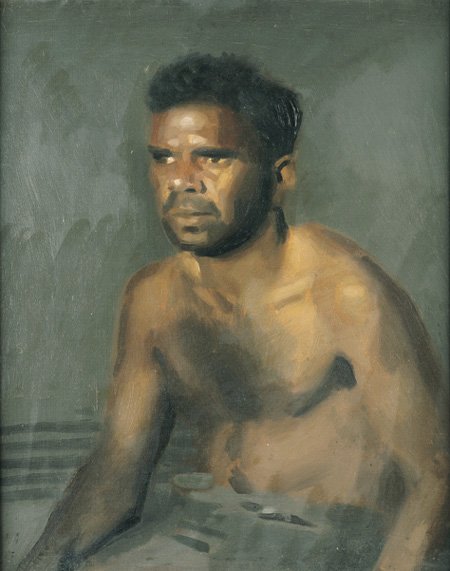 oil on canvas
76.7 x 61.6; in original frame
inscribed in black paint on reverse of canvas u.r.: CLIVE / HOOD
No. 14 in 1934 exhibition
Private Collection

Clive Colin Hood was born at Lake Tyers in 1908.

Clive was a member of the renowned Lake Tyers Football Team, a champion pool player, and a formidable opponent when playing for money. He died in 1991, the last of Leason's male sitters.

Clive was the last male painted by the artist and under trying circumstances. The portrait's progress was difficult with frequent interruptions and was possibly one of the shortest sittings:

"Resumed on Clive Hood at 2 'o clock with a bad headache……..leaving me to do as well as I have with any of the men. "

The face is strongly rendered while his torso is firmly modelled with well-placed gestures of tone. The position of the arms and torso seem strange and the pose must have been uncomfortable to hold for long. It seems that this was not necessary.