Mrs Clara Hunt (1872—1948)
by Percy Leason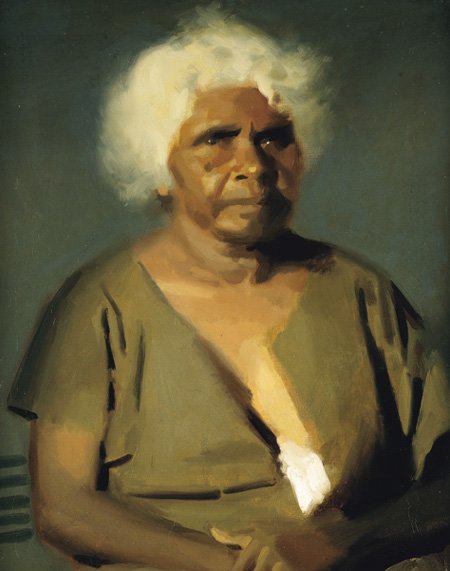 oil on canvas
76.1 x 61.0
inscribed in black paint on reverse of canvas: MRS CLARA HUNT
No. 21 in 1934 exhibition
Gift of Mrs Isabella Leason, 1969
La Trobe Picture Collection, State Library of Victoria

Clara Hunt (nee Bull) was born at Ramahyuck Station in 1872.

Clara Hunt was the eldest woman painted by the artist and initially appeared reluctant to sit.

"Mrs. Hunt shy I think, and for that reason had not come. Welcomed the suggestion that Belle (the artist's wife) should go to meet her tomorrow. A fine looking old soul…."

Mrs. Hunt arrived later the next day and the artist was able to complete the portrait in one sitting:

"Worked very hard and did as well as the best yet. A very squally and wet afternoon but the patient (dressed) sat very patiently except for a rather restless head"

Mrs. Hunt's shyness and reluctance may have been because she had anticipated the artist's request to pose with her breasts uncovered. It is likely in deference to her age that the artist did not insist although he may have been present when Mrs. Hunt was photographed by Dr. Thomson stripped to the waist. The expected duration of the sittings may have explained her reluctance.

From the artist's diary it seems he developed a good rapport with Mrs. Hunt. He records that she sat with him, his wife and their children prior to the sitting and spoke with them at the viewing of the portraits at Lake Tyers.

Her portrait projects considerable determination and strength, depicting a woman comfortable with herself and with the artist.