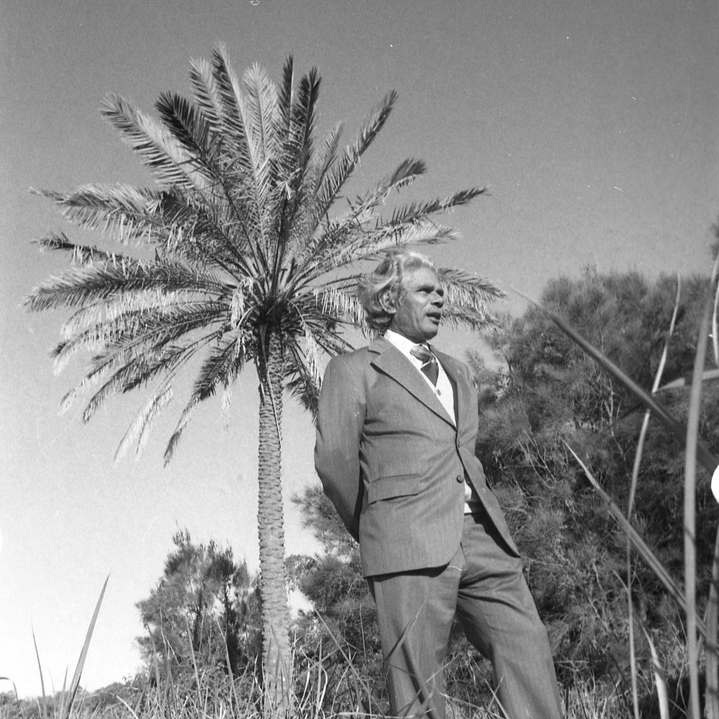 Neville Bonner was photographed under the palm tree when he revisited Ukerebagh Island in 1977.
Neville Bonner was born under a palm tree on Ukebaragh Island in 1922. The son of a Jagera woman and an Englishman, Bonner's earliest experience remained etched in his memory:
...my mother was not allowed to go to hospital to give birth to me, she gave birth to me in a little gunya under the palm tree, that still lives down there, on a government issued blanket. Those are the kind of things that we had to cope with when I was born and when I was a small child, right up into my teenage years and into my manhood.
Neville Bonner
As a young boy, Bonner worked hard to support his family. While Aboriginal children were not generally admitted to NSW state schools at this time, he was given permission to attend the local school after a good word from the police superintendent. After two days, however, he was forced to leave after protests from non-indigenous parents.
Following the death of his mother when he was fourteen, Bonner moved across the border with his grandparents to Beaudesert, Queensland. It was here, in his grandmother's country, that he enrolled at Beaudesert State School and received his only year of formal education.
Watch the interview with Neville Bonner to hear him speak about his school experience.
After meeting his first wife Mona on a cattle station in north Queensland, the couple returned to her home on Palm Island where they married in 1943. Living with his family on the Aboriginal Reserve for the next seventeen years, Bonner became actively involved in community affairs. It was during this time that Bonner learned many of the skills he would later call on as a politician.
I learned to manoeuvre people, I suppose, to get the things done that I wanted to have done for the benefit of myself, my family and other people on the community.
Neville Bonner
Following the 1967 referendum that recognised Aboriginal people as Australian citizens, Bonner decided it was time to enter politics and joined the Liberal Party the next day. When he was selected to fill a Liberal Senate vacancy in 1971, Bonner proudly became the first Indigenous member of parliament in Australian history. The press were ready with their cameras when he followed his maiden speech with a boomerang throwing display on the lawns of Parliament House.
For the first time in the history of this country there was an Aboriginal voice in the parliament and that gave me an enormous feeling of overwhelming responsibility. I made people aware, the lawmakers in this country, I made them aware of Indigenous people. I think that was an achievement.
Neville Bonner
In Bonner's position as Senator, he often found himself wedged between the conflicting views of a conservative Queensland state government and the changing attitudes of the Commonwealth. These tensions were present throughout his political career and, on issues related to Indigenous affairs, he often faced the harshest criticism from those he set out to represent.
Each time Bonner crossed the floor he was wearing his favourite R.M Williams boots. He defied the parliament's strict dress code by wearing these in the Senate chambers.
Bonner became a highly respected parliamentary figure during his twelve years as Senator. Always one to stand up for what he believed, he crossed the floor many times to vote against his own party. Bonner resigned from the Liberal Party in 1983 after he was dropped from a winnable position on the Senate election ticket. He went on to run as an independent, but narrowly missed re-election.
Neville Bonner was named Australian of the Year in 1979 and for the next twenty years, he continued to be a strong advocate for Indigenous rights. Following his death in 1999, Senator Robert Hill paid tribute to this "remarkable man" saying,
Senator Robert Hill expressed his condolences in the Senate following the death of Neville Bonner on 5 February 1999.
his life was a lesson to us all: the way he overcame personal adversity; the inspiration he offered to all who refused to be shackled by disadvantage; the guidance he offered on values, in particular tolerance and compassion; and the way in which he accepted disappoints without bitterness.
Senator Robert Hill