William Johnson (1873—1948)
by Percy Leason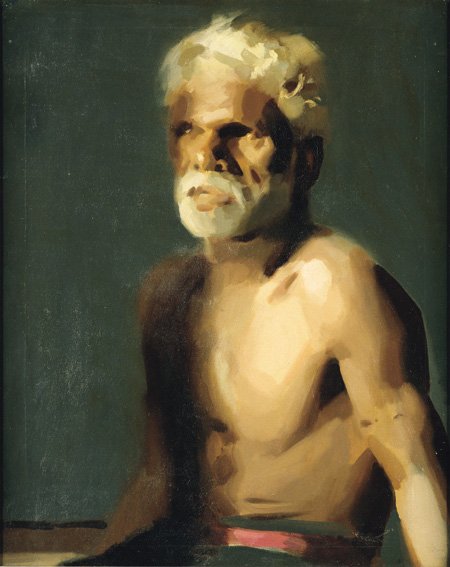 oil on canvas
76.3 x 61.6
inscribed in black paint on reverse of canvas: WILLIAM / JOHNSON
No. 22 in 1934 Exhibition
Gift of Mrs Isabella Leason, 1969
La Trobe Picture Collection, State Library of Victoria

William Johnson was born at Lake Tyers on 30 July 1873.

There are no notes about this portrait but the artist intended to do a larger portrait the same as those of Adam Cooper, Edward Foster, Robert Kinnear and Charles Green. His diary records:

"William Johnson, painted on previous trip, grew a beard — a fresh one — especially for this occassion (sic), but cut it off yesterday... ...Having painted him with one... ...will not do the large one I intended doing."

The artist does not seem to have changed his mind and the present portrait was shown in his exhibition.

William, known as 'Grandfather' Johnson, was an expert canoe maker and, according to Leason's catalogue, was one of few who practiced old crafts and spoke the local Lakes dialect. He was also a noted athlete and boxer. Although based at Lake Tyers, William travelled around the district frequently and, as Phillip Pepper relates in You are what you make yourself to be: the story of a Victorian Aboriginal family, met up with Phillip's sister Alice near Narooma on the N.S.W. coast in September of 1948. As she was travelling back to Lake Tyers, he joined her and they camped out over night. When she woke in the morning, he had died during the night. He is apparently buried in the cemetery at Narooma.

His descendants, including members of the Johnson, Tregoning, Sellings and Turner family live in the Gippsland region today.